More Gray Matter in Brain = More Altruism?
From ScienceDaily (July 11, 2012) — The amount of activity in a tiny region of the brain is directly related to your propensity for altruistic behavior. University of Zurich researchers have demonstrated that people with a higher degree of altruism than others have more gray matter at the intersection between the temporal and parietal lobe, providing initial proof of a connection between brain anatomy, brain activity and altruistic behavior.
The intersection (yellow) between the parietal and temporal lobes,
in which the relative proportion of gray matter is significantly
positively correlated with the propensity for altruistic behavior.
(Credit: University of Zurich)

Positive psychology has often asked 'Why do some people tend to be more selfish while others are more altruistic?'
Previous studies indicated that social categories like gender, income or education fail to explain individual differences in altruistic behavior. Recent neuroscience studies have shown that variations in brain structure seem to be linked to differences in personality traits and abilities.
Breaking new scientific ground,  a group of researchers from Zurich University, led by Ernst Fehr, Director of the Department of Economics, show that there is a connection between the anatomy of the brain and our degree of altruism.
To investigate whether differences in altruistic behavior have neurobiological causes, volunteers were to divide money between themselves and an anonymous other person. The participants always had the option of sacrificing a certain portion of the money for the benefit of the other person. Such a sacrifice can be deemed altruistic because it helps someone else at one's own expense. The researchers found major differences in this respect: Some participants were almost never willing to sacrifice money to benefit others while others behaved very altruistically.
Interestingly, altruistic behavior has been shown in multiple studies to reduce depression as well as increase subjective well-being, degree of happiness, and life satisfaction. 
And keep in mind, that this does not mean that altruistic behavior is predetermined or 100% biologically determined. The human brain is highly plastic and continues to grow and change throughout the lifespan. It is my belief, based on studying the brain for 20 years, that altruism is a learnable skill. It simply requires awareness, practice and repetition.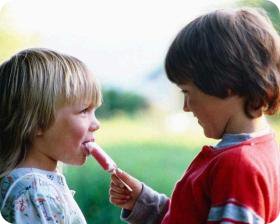 More gray matter
The aim of the study, however, was to find out why there are such differences. Previous studies had shown that a certain region of the brain — the place where the parietal and temporal lobes meet — is linked to the ability to put oneself in someone else's shoes in order to understand their thoughts and feelings (i.e., sympathy and empathy). Altruism is probably closely related to this ability. Consequently, the researchers suspected that individual differences in this part of the brain might be linked to differences in altruistic behavior. And, according to Yosuke Morishima, a postdoctoral researcher at the Department of Economics at the University of Zurich, they were right: "People who behaved more altruistically also had a higher proportion of gray matter at the junction between the parietal and temporal lobes."
Individual Differences in brain activity
The participants in the study also displayed marked differences in brain activity while they were deciding how to split up the money. In the case of selfish people, the small brain region behind the ear is already active when the cost of altruistic behavior is very low. In altruistic people, however, this brain region only becomes more active when the cost is very high. The brain region is thus activated especially strongly when people reach the limits of their willingness to behave altruistically. The reason, the researchers suspect, is that this is when there is the greatest need to overcome man's natural self-centeredness by activating this brain region.
Ernst Fehr adds: "These are exciting results for us. However, one should not jump to the conclusion that altruistic behavior is determined by biological factors alone." The volume of gray matter is also influenced by social processes. According to Fehr, the findings therefore raise the fascinating question as to whether it is possible to promote the development of brain regions that are important for altruistic behavior through appropriate training or social norms.
To life, love and altruism,
John Schinnerer, Ph.D.
Positive Psychology Coach
Anger Management Coach
Author of the award-winning Guide To Self: The Beginner's Guide To Managing Emotion & Thought
Guide To Self, Inc.
913 San Ramon Valley Blvd. #280
Danville CA 94526
For your FREE PDF copy of my award-winning self-help book, Guide to Self: The Beginner's Guide to Managing Emotion and Thought, visit GuideToSelf.com.
WebAngerManagement.com – 10-week online anger management course
DrJohnBlog.GuideToSelf.com –  Awarded #1 Blog in Positive Psychology by PostRank, Top 100 Blog by Daily Reviewer
@johnschin – Twitter
Story Source:
The above story is reprinted from materials provided by University of Zurich.
Journal Reference:
Yosuke Morishima, Daniel Schunk, Adrian Bruhin, Christian C. Ruff, Ernst Fehr. Linking Brain Structure and Activation in Temporoparietal Junction to Explain the Neurobiology of Human Altruism. Neuron, 12 July 2012 DOI: 10.1016/j.neuron.2012.05.021
University of Zurich (2012, July 11). The more gray matter you have, the more altruistic you are. ScienceDaily. Retrieved July 12, 2012, from http://www.sciencedaily.com­ /releases/2012/07/120711123005.htm